Word Counts for Stories. Getting ready to attend a three-day conference this coming week. The National Latino Children's Literature Conference is being held here in beautiful San Antonio at the University of Texas in San Antonio downtown campus. I will be one of the presenters at the conference and am really looking forward to it.  Authors and illustrators plus educators from several Texas universities will be in attendance.  It should be an exciting time.
I am also busy revising a historical fiction manuscript plus getting ready for a poetry reception and reading sponsored by the VIA Poetry on the Move contest. The winning poets and illustrators will be celebrating at a reception at the VIA Metropolitan Transit Center. I am excited about it.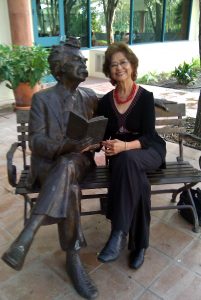 If you're working on several genres, i.e., picture books, middle grade, or young adult fiction, you might be wondering about the word count for each. Here's an informative article by Chuck Sambuchino on the Writer's Digest blog, "Guide to Literary Agents: The Word Count for Novels and Children's Books: The Definitive Post."
Keep writing!
Good writing is supposed to evoke sensation in the reader. Not the fact that it is raining, but the feeling of being rained upon.—E.L. Doctorow